Wednesday Night Summer Concert — Sanctuary All Stars
July 12 from 6:30 pm

to

8:30 pm

Free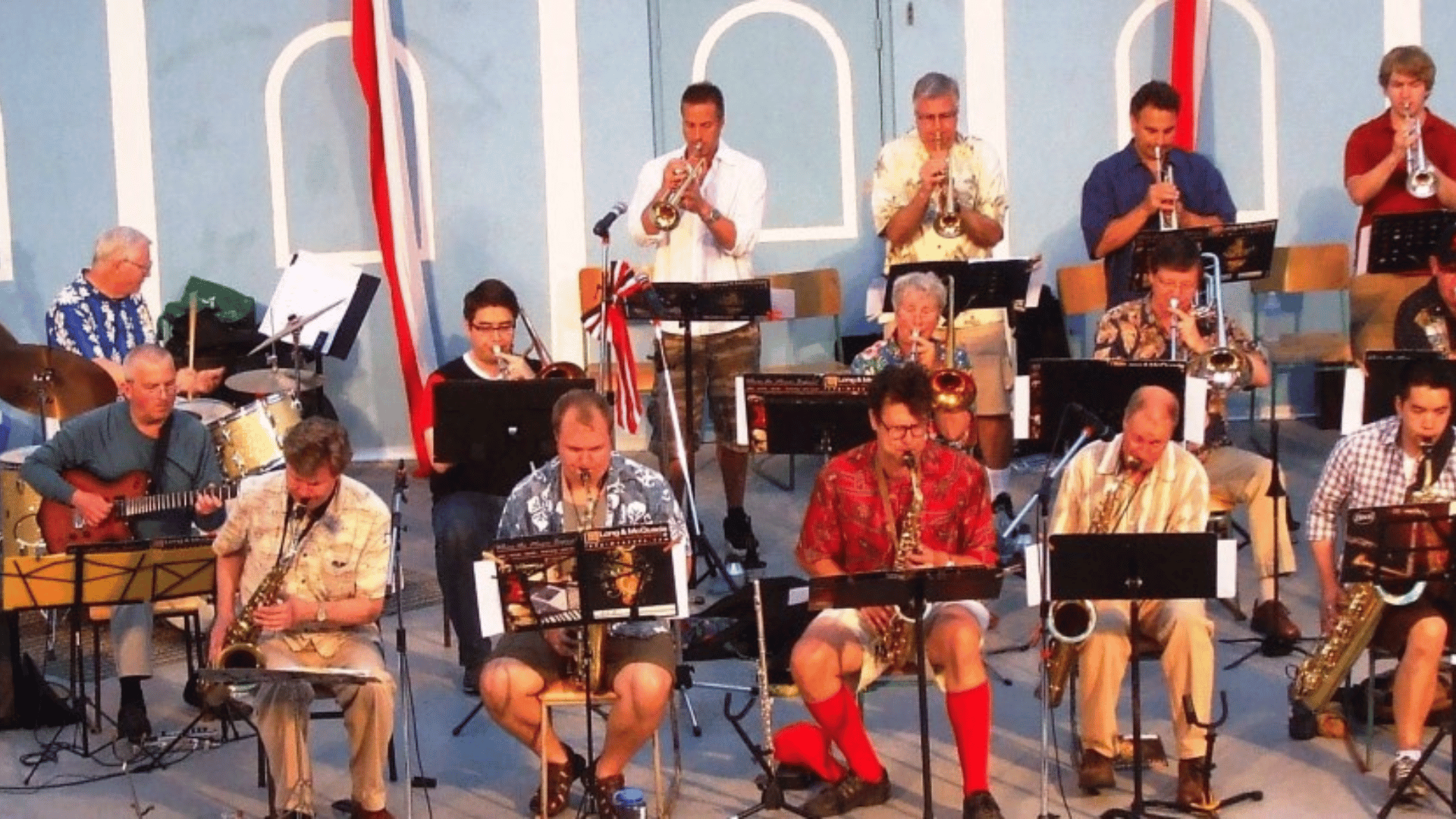 Psst… What are you doing Wednesday evenings this summer? Join us for FREE live local music and kids' activities.
Bring family and friends to our Summer Concert Series at the outdoor performance area on the east side of the building.  Along with fantastic live music, there will also be an Arts & Craft Station and kids activities led by Red Fox! Bring a picnic to enjoy the evening sun while listening to the fantastic lineup of live music we have planned for you.
(Note: rained out concerts will be held in the Grandview Room.)
Wednesdays, July 12 to August 23, 2023 at 6:30 p.m.
FREE/ 7 sessions
Activity #455972
Performing July 12, 2023 – Sanctuary All Stars
Some of Vancouver's finest jazz musicians will WOW you with solo performances featuring music from some of the great jazz bands of the big-band era. Come see this toe-tapping, straight-ahead jazz performance of contemporary big band jazz!
---
Come to the next shows! Here's the line-up:
South Van Big Band – performing on July 19, 2023
The South Van Big Band is a 19-piece jazz orchestra based in Vancouver, BC, Canada. Its musical repertoire ranges across swing, bebop, Latin jazz, rock, funk, fusion and contemporary styles.
Mariachi Tabasko – performing on July 26, 2023
Mariachi Tabasko, led by Diego Kohl, delivers the passion and the love they feel for México and its culture when performing together. "It is such an honour to play Mariachi Music in Canada," says Diego. This band offers a range of different styles of Mariachi which include; heartfelt Rancheras, romantic Boleros, rhythmic Huapangos, Polkas, Cumbias and our favourite Songs.
Out in harmony – performing on August 2, 2023
Bringing highlights of their 2023 shows to the Park: "Stronger Together" and "All You Need is Love". This is a chance to enjoy some beautiful new-to-you songs, and sing-along-with some familiar faves!
Western Swing with Sue Malcolm and The Swingin' Doors – performing on August 9, 2023
These six Vancouver roots veterans serve up a menu of sizzling hot western swing. This distinctive style of music is a gumbo of country, swing, jazz and blues, featuring the sound of fiddle and steel guitar. Western swing is dance music, come in your dancing shoes and let's party!
The Boytles – performing on August 16, 2023
Four talented youth performing their tribute to the Beatles. Go back in time and remember your favourite hits, and dance along with this new Fab Four!
Checo Tohomaso and VOC Sweet Soul Gospel Choir – performing on August 23, 2023 6:30 to 8:30 p.m.
First half of this performance showcases Checo Tohomason keeping sweet soul alive, taking inspiration from Sam Cooke, Otis Redding, and Marvin Gaye. For the second half Checo is joined by the VOC Sweet Soul Gospel Choir to deliver some dancing, toe tapping, energetic music!
The Carnival Band – performing on August 23, 2023 from 8 to 9 p.m. for the Lantern procession.
Many of The Carnival Band's favourite tunes are originals by band members. The remainder of their monstrous repertoire includes samba, calypso, swing, afrobeat, jazz, funk, disco, and traditional music from around the globe.